360 BANDIT™
Banding nitrogen with the planter helps boost efficiency – nutrient efficiency and time efficiency. But it is critical that adding this operation to your planter pass does not interfere with the critical functions of the planter – getting seeds at the right depth, right spacing and firmed beneath the soil surface.
WE DESIGNED 360 BANDIT WITH THESE THREE CRITERIA IN MIND:
Safety: The system must do its job without impacting seed placement, depth or furrow closing.
Nitrogen/Sulfur Placement: The system must work in all soil conditions – rocks, muck, sand, not-till, cover crops. And it must consistently put nutrients three inches on each side of the plant and below the soil surface.
Value: There are many attachment options for corn planters for apply nutrients. 360 BANDIT must perform, last and provide a fast ROI.
360 BANDIT positions nitrogen 1 x 2 x 3. It positions nitrogen 1" below the soil surface, on 2 sides of the row and 3 inches from the seed.
360 RAIN™
DELIVERING WATER, NUTRIENTS, FUNGICIDES AND MORE DAY AND NIGHT
By delivering bands of water directly to the base of the plant, 360 RAIN provides advantages over traditional irrigation methods. With a 60-foot boom (24 rows), 360 RAIN applies water through Y-DROP style hoses. Up to 2,900 feet of 3-inch diameter hose is dispense by a computer-controlled reel. The machine moves up and down the crop rows as the well-tethered reel dispenses and retrieves hose. At 0.45 mph, 360 RAIN can apply over 2,000,000 gallons of water per week – the equivalent of one inch of rain over an 80-acre field from a well producing just 215 gallons per minute. And then start again. And again. Providing the three or four inches of critical moisture that activates soil microbes, enhances grain fill and allows plants to thrive.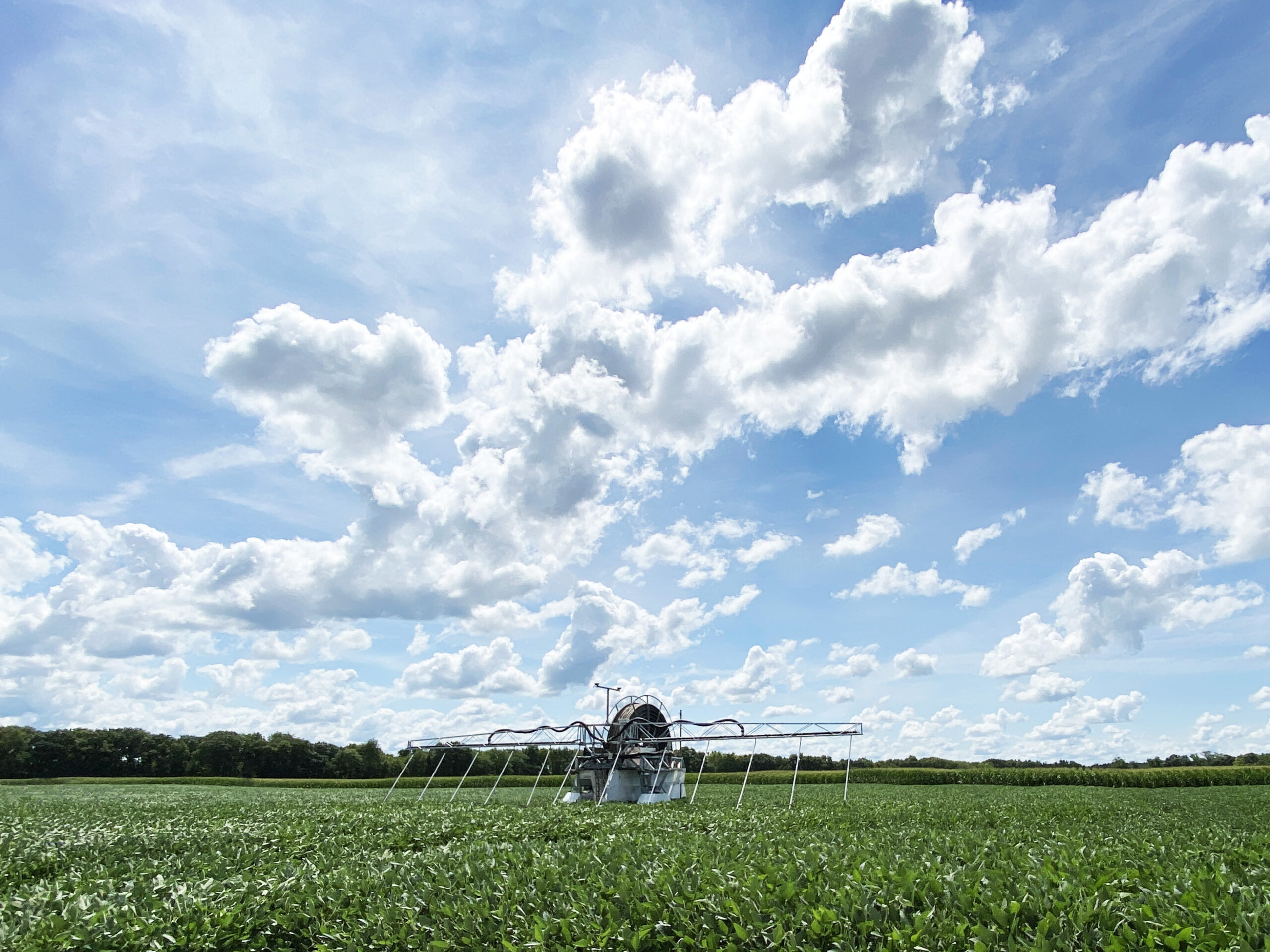 BRINGING IRRIGATION TO NEW REGIONS
360 RAIN requires much lower volumes of water than traditional irrigation systems. Depending on field size, wells need to provide just 100 to 225 gallons per minute to the system. Plus, 360 RAIN can water irregular shaped fields that do not fit typical center pivot systems. The RAIN system also provides 100% field coverage – no special equipment needed to cover the corners that are typical to center pivot fields.
360 RAIN is a three wheeled electric vehicle and uses field-proven components from the irrigation industry including tire and galvanized metal frame. Guidance is provided through RTK and communication through a cellular network that provides the control, coverage and rate instructions.
360 TANKS
CAPACITY AND BALANCE FOR IN-FIELD PRODUCTIVITY
New liquid nitrogen tanks from 360 Yield Center deliver the things you need for an efficient on-planter nitrogen system: weight balance, capacity, visibility, and accessibility.
These sleek 700-gallon capacity tanks follow the contour of your John Deere 8000R tractor – providing improved front and side visibility compared to other mid-mount and front mount tanks. And the unique shape and mount positions provide better fore and aft weight distribution – to minimize pinch-row compaction. And, unlike most mid-mount tanks, the 360 liquid nitrogen tanks do not increase transport width.
Two 350-gallon poly tanks are supported by a rigid steel support frame that mounts to the tractor frame and weight bracket. Tanks include baffles, sumps and rinse ports.
KEY FEATURES
Optional pump kit.
Improved visibility.
Systems are available for select models of John Deere 8000R series tractors as well as select models of CNH tractors.  
360 YIELD SAVER™
360 YIELD SAVER REDUCES HEADER LOSS BY 80% BY CLOSING THE GAPS IN TRADITIONAL DECK PLATES AND GATHERING CHAINS.
Traditional corn heads have gaps in the deck plates and gathering chains that result in corn kernels falling right through. 360 YIELD SAVER eliminates those gaps by adding intermeshing bristles to traditional gathering chains to capture significantly more kernels.
Available for:  John Deere 600 and 40/90 Corn Heads, CaseIH 1000 through 5000 Corn Heads, Drago GT and Series 2 Corn Heads, Gehringhoff Northstar, Rota Disc, MS Cornstar, PC Corn Heads.
Field test show that 360 YIELD SAVER typically captures and additional 1.8 bushels per acre. The savings add up quickly. Consider the return on investment for a typical corn operation. With an eight row head covering 750 acres per year, a grower could expect gross yield savings of over $16,000 and a net profit of over $7,000. That's a 76% return on investment.
In addition to the yield capture, header management improves. You no longer have to manage the header speed to minimize header loss. You can optimize head and feeder house speed to ground speed and crop flow. Plus, because 360 YIELD SAVER can capture nubbins and undersized ears, you have more flexibility in deck plate spacing.
360 DASH™
360 DASH lets you apply the maximum rate for yield response while trimming your starter volume per acre – and cost per acre – by 50% to 75%. Rather than a continuous stream of liquid fertilizer, the 360 DASH valve meters a two- or three-inch "dash" of fertilizer and positions it for rapid interception by seedling roots.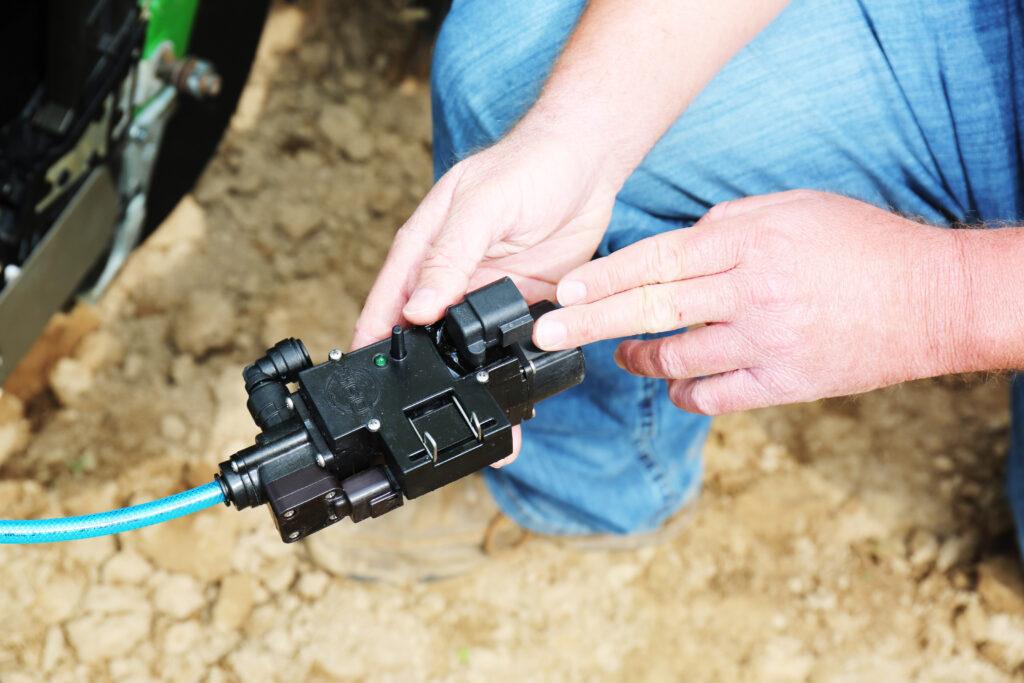 The 360 DASH valve can be used with a variety of starter application tools including the 360 WAVE and most Keeton Seed Firmers.
360 uses an AgXcel pump system with the "360 DASH Package" (sold separately) to ensure compatibility with the 360 DASH control app and to ensure uniform pressures and filtering.
Set up and control settings are simplified via the 360 DASH App on your iPad. You set the length of the "dash" and its position – on, between, or next to the seed.
360 GLIDE™
GAIN CONTROL AND REDUCE FATIGUE
The 360 Glide Boom-Height Control System provides reliable, mechanical, automatic positioning of your 360 Y-DROP system that ensures ideal hose position and nitrogen placement.
Your current control system is ideal for bare ground but can struggle to measure above the canopy or through leaves to maintain height. The 360 solution takes control with a simple, reliable sensor rod that mounts to the 360 Y-DROP base and constantly adjusts the 360 Y-DROP base position relative to the ground.
The 360 Glide Boom-Height's three sensor bases plug into the center module of your current control system. That means there is no additional controller or system to learn and operate.
SENSOR ROD TAKES GUESSWORK OUT OF MEASUREMENT
This rod glides over field terrain reporting the position of the 360 Y-DROP base to your boom control system. The rod flexes and pivots so it easily handles contours, turns and backing up.
360 GUIDE™
THE SIMPLE SOLUTION FOR STEERING IN TALL CROPS
Your self-propelled applicator's guidance system is optimized for bare ground and good A-B lines. The 360 Guide Steering System is an add-on that lets your existing guidance system maintain ideal middle-of-the-row position when A-B line accuracy isn't enough.
The system uses feeler wands and sensors to measure the position of the machine in the row. The system "teaches" your system the right position by correcting the GPS coordinates based on the exact position of the sprayer in the row.
360 GUIDE connects between the GPS globe and the OEM controller. It takes the GPS position provided by the globe, adjusts it and sends a correct position back to the steering controller. That means there is no new controller monitor required – run your guidance system just like you always do – with corrected signals that keep you centered.
DEPENDABLE, MECHANICAL CORRECTION
Tactile wands measure the position of the applicator in the row. A rugged mounting frame attaches to the front of the applicator and provides a rigid platform of the sensor base. The system works in row widths from 20- to 38-inches.
360 CHAINROLL™
Create the right environment for soil microbes and improve nitrogen availability with a new
approach to residue management. 360 CHAINROLL™ chops and crimps stalks, making residue more available to microbial breakdown for better soil health and nutrient availability. The advanced, patented design also leaves most sections connected—like a chain—for more stable residue pieces so you don't experience clusters of small, confetti-like residue that tie up nitrogen and impede seedbed preparation.
Precision cutting
Precision sizing
Precision residue management
360 BULLET™
New Ripper Point improves access to soil nutrients.  The streamlined shape and wide wings generate a mini-earthquake that fractures from point to point.  That loosens the full soil profile for improved root penetration.  Ultra-hardened materials is welded to all wear surfaces for long life. 
Wings that lift and fracture complete soil profile

Aerodynamic designs sends shockwaves across full width of ripper

Soil-on-soil turbulence eliminates undisturbed berms of soil between points of traditional rippers and OEM points

Unrestricted root access to nitrogen, phosphorus, potassium, sulfur and other nutrients. 
Precision & Efficiency.  
360 BULLET points do this with hardly and more time, horsepower or fuel.

In a series of half-acre trials in a variety of soil types, with the same tractor and ripper, the 360 BULLELT took only 1.5% longer to finish and maintained a pulling speed equal to traditional ripper points.
360 Y-DROP® Sidedress
IMPROVE NITROGEN EFFICIENCY: PLACE N in the root
zone for rapid uptake.  Convert your coulter sidedress bar and extend your application window.  The 360 Y-DROP™ application system places liquid nitrogen at the base of the corn plant – directly above the root mass. Moisture – a heavy dew or light shower – moves the nitrogen into the soil for rapid uptake and minimal denitrification. Coulter systems put a band of nitrogen 10 to 15 inches from the root mass. That slows uptake and increases risk of loss without a significant rain.
360 Y-DROP®

Deliver inputs when and where needed, gain more control with full-season application, and ensure the timely feeding of your crop to capture more yield potential.  Turn your sprayer into a nitrogen (or any liquid) applicator for corn fields at V6 and beyond – Y-Drop fits most models and row spacing.
This revolutionary product greatly increases the efficacy and application window for in-season nutrient applications

Precisely place nitrogen at the stalk base to utilize nature's gift of stem water for incorporation

Allow real-time management of nitrogen based on the field environment and grower management practices

Enable the use of 360 UnderCOVER for complete inner-canopy coverage of liquid sprays (fungicides, nutrients, insecticides, etc.)
360 UNDERCOVER®

Apply needed liquid to your crop where required – with an accurate spray system – to capture yield potential.

360 UnderCOVER allows you to deliver inner-canopy coverage for a wider window of crop applications with various liquid sprays (fungicides, insecticides, nutrition products, etc.).
Take control of late-season disease and insect infestations with complete coverage

Each unit operates up to six multi-directional spray nozzles in a hard shelled housing

Increase product efficacy by delivering maximum target coverage when and where you need protection

Mount 360 UnderCOVER to 360 Y-Drop

360 SOILSCAN™
Take control and capture more yield potential with real-time nitrate readings—early season to tassel. Feed your crop at the point of need rather than convenience. 
In-field nitrate readings

Coming soon: Ammonium and Potassium sensor

Results take five minutes from sample to completion versus waiting for lab results

360 SoilSCAN is rugged, portable, and works well on ATVs or pickup trucks